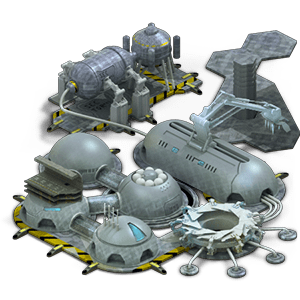 Cost of the 1st level:
CRP 1.5
The importance of the issue of limited usable space is increasing as the planets are developed. Traditional methods such as upward and downward construction have proven to be insufficient. A small group of physicists and nanotechnicians found a solution - a terraformer.

Spending a huge amount of energy terraformers can transform vast areas and even entire continents, making them suitable for building. In this structure, special nanites are continuously produced, which are responsible for constant soil quality.
It increases the number of fields by 10 for each level. The terraformer does not take up fields.

| | | |
| --- | --- | --- |
| Lvl | Energy | Number of fields |
| 1 | -500 | 10 |
| 2 | -1 000 | 20 |
| 3 | -1 500 | 30 |
| 4 | -2 000 | 40 |
| 5 | -2 500 | 50 |
| 6 | -3 000 | 60 |
| 7 | -3 500 | 70 |
| 8 | -4 000 | 80 |
| 9 | -4 500 | 90 |
| 10 | -5 000 | 100 |