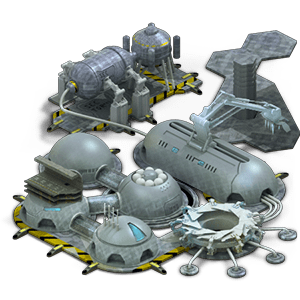 Cost of the 1st level:
CRP 1.5
With the development of the planets, the limits of usable space became even more pressing. Traditional methods such as building upwards and downwards proved insufficient. A small group of physicists and nanotechnicians found a solution— Terraformer.

Spending huge amounts of energy Terraformer can convert large areas and even whole continents, making them suitable for construction. In this structure the special nanites responsible for the consistent quality of the soil are continuously produced.
Increases the number of fields by 10 with each level. Terraformer itself occupies no fields.

| | | |
| --- | --- | --- |
| Lvl | Energy | Number of fields |
| 1 | -500 | 10 |
| 2 | -1 000 | 20 |
| 3 | -1 500 | 30 |
| 4 | -2 000 | 40 |
| 5 | -2 500 | 50 |
| 6 | -3 000 | 60 |
| 7 | -3 500 | 70 |
| 8 | -4 000 | 80 |
| 9 | -4 500 | 90 |
| 10 | -5 000 | 100 |